AVOID GETTING YOUR FACE ROCKED:
OUR TIPS FOR ELIMINATING TOE AND HEEL DRAG
Width is an important factor when choosing a snowboard. Too wide of a board will lack responsiveness. Too narrow and you run the risk of the ever dreaded toe and heel drag which is quick to throw you on your face, especially if you enjoy steeper terrain or laying down a hard carve (looking at you dudes with boot sizes 11.5 and up!)
If you wear a size 11 or smaller snowboard boot - Congrats, you are in the clear! Feel free to skip the rest of this.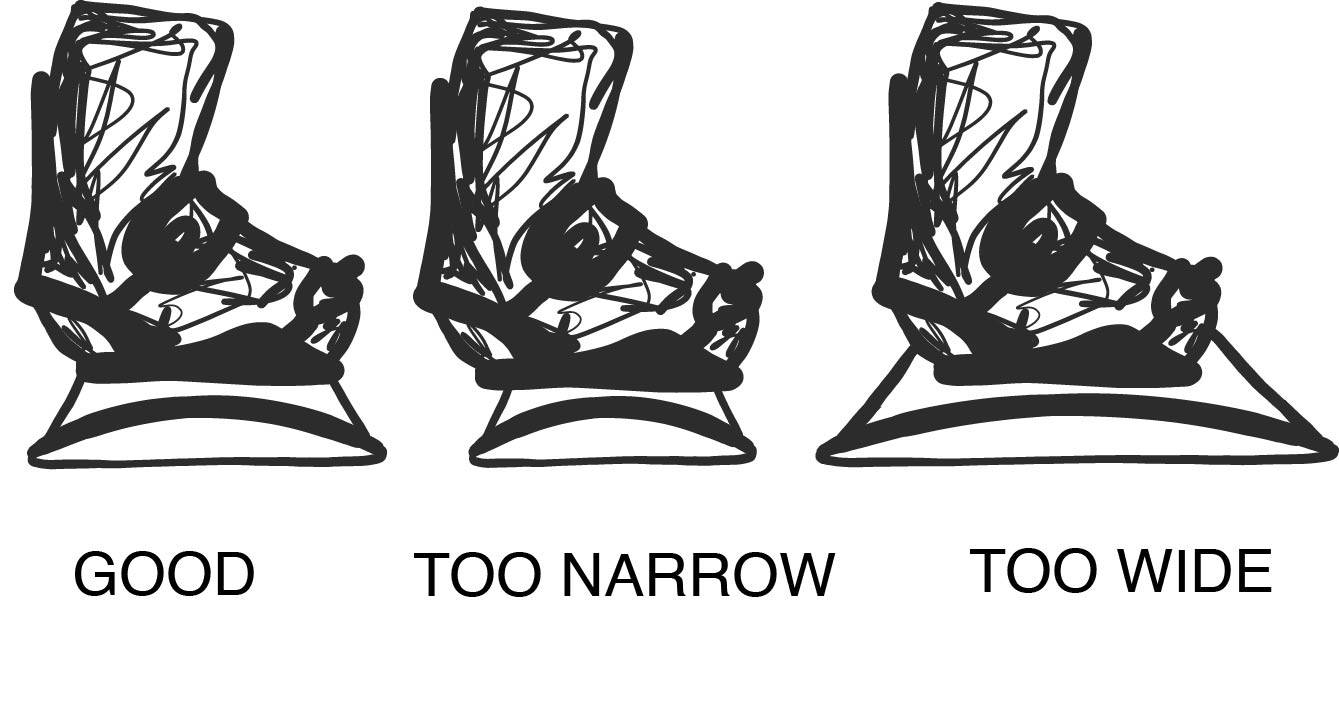 1.) Go with a wide snowboard model
Typically, riders with a snowboard boot size of 11.5 and up will need a "wide" snowboard model. These types of boards will have a waist width, referencing the width of the board at its narrowest point, that measures to be 260mm or more. Check the chart below to determine appropriate sizing for your boots.
Finding a wide model of the snowboard you want can be a tricky. Luckily, we're looking out for our larger-footed friends by making some of the widest snowboards on the market. Topping the list is the Backwoods 167W with a monster waist width of 28.1cm, accommodating up to a size 15 boot.
The all-new Pow Slayer Series features a volume-shifted quiver of snowboards designed to be shorter and wider underfoot, giving riders the option to size down for the ultimate combination of float and unmatched maneuverability in deep powder. We've taken a few of our most popular shapes including the Backwoods, Japow and the all-new freestyle oriented Hatchet and shrunk 'em down to bring the blessings of agility, quick carves, and playful riding to those who may be used to rocking a lot more board underfoot.
No longer will you have to sacrifice the feeling of a twin for fear of the drag! Even the "non-wide" or "standard" models in the Weston lineup fare more towards the "mid-width" category vs. the majority snowboards out there on the market. The Range is made up to a 164 Wide (waist-width = 27cm) and is geared to tackle backcountry terrain with 20mm of setback to keep you afloat in the deep stuff while remaining playful enough to ride switch and butter around with the posse on resort days. The Logger is the original true twin of the lineup and a favorite amongst the team. Designed for hitting logs and tackling all types of freestyle features hidden along the mountain, the Logger is available as a mid-width up to a size 158cm (waist-width, 25.9cm) which will have you covered up to an 11.5 boot.
For ladies with a 9+ boot, our women's lineup of snowboards run along the wider side of the spectrum as well which offers up a few more options for riders to choose from before jumping up to a men's model which can oftentimes run the risk of feeling too stiff or clunky to turn. The new powder loving Eclipse measures a 25.6cm waist width with the directional twin shape of the Rise 152 coming in at 25.2cm.
2.) adjust snowboard binding stance width and angles
Play around with widening your stance and ducking your angles more than +18 degrees. Boot sizes bigger than 13 should be rocking angles closer to +30 degrees.

3.) tweak the heel cup on your bindings
Many snowboarding bindings have heel cup adjustments that allow you to set the binding back towards the heel edge or move it closer to the toe. Make these minor tweaks so that your boot is properly centered over the footbed.
4.) ride lower profile boots
Not all boots are created equal. Some manufacturers and models have a larger profile on the snowboard than others. Consider looking at a boots with outer sole lengths that run smaller or shorter which can allow you to ride a narrower board. Also, never a bad idea to get a professional boot fit and double check your size. In many cases, people are riding in boots that are too big if they haven't ever been properly measured. Newer boots also have much slimmer and sleeker designs than models of the past (RIP early 2000's moon boot phase).